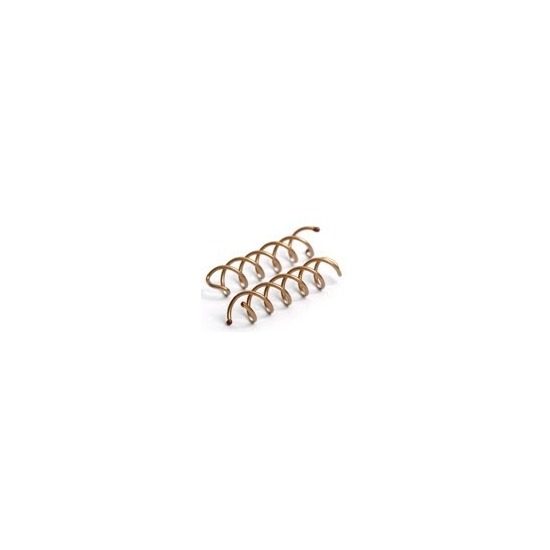 Rollover image to zoom
Reviews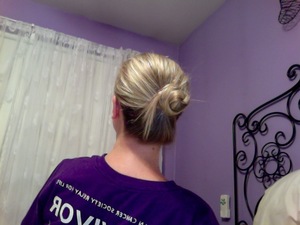 Quick and Easy
I hate when my hair wrap slips from my hair. I am constantly taking my hair down and putting it back up. I know if its bothering me, it must bother other people too. I found these Spin Pins made by Goody last summer and they are amazing. Once you put them in, they will stay in all day. Your hair will not slip from them. Now your hair does have to go in a "bun-type" look but you can make it a "messy bun", so you dont look so library school teacher (no offense to anyone...we all know teachers and librarians are every mans fantasy, haha). These spin pins are not hard to use!!! Depending on where you buy them at, the price ranges anywhere from $6.00 to $9.00 (on average). You can get blonde or brunette. I dont think it came in any other color, but dont quote me on that. I just personally havent seen them in any other colors. I wanted to give you an idea of what you can do with the spin pins. I am putting up 3 pictures on my blog (http://rachaelsbeautyblog.blogspot.com/). On here I will post just one of the pictures. http://rachaelsbeautyblog.blogspot.com/
ELEGANCE in less than a minute!
I bought this from CVS not really SURE about how it worked but figure I'll go try it regardless.. of course~ I LOVED IT! you can give yourself a elegant french twist in matter of seconds. You just twist your hair up and wind the spin pins in circular motions till it feels nice n snug. Top to bottom. That's it! It holds your hair nice and tight and lasts all day. Pins are hidden underneath your hair so it's not visible either. I totally recommend this product to everyone!! Great for times when you're in a "HURRY". :)
LOVE
I absolutely LOVE these! My hair is ridiculously long and smooth, so bobby pins have never been my friend. I need to use at least 10 to get any part of my hair to stay where I want it. So I tried these on a whim, and two of them, one from each side of my bun, holds it perfectly, ALL DAY LONG! They're so easy to carry around with me, and when my hair is in my way, it takes literally seconds to have it up in a secure bun, and continue what I'm doing. I have a ton of these and keep them everywhere for easy access xD
I am absolutely crazy about these! I have long, thick hair, so it's not always easy to find hair accessories that actually work well. I used to get headaches if my hair was up for too long in an elastic hair tie, or bobby pinned, but with these I often forget I even have my hair up! They hold my hair in place beautifully, and are really quick and easy to use. I recommend them all the time!
Wishful thinking
I have very fine Asian hair. It's straight as a pin, thin as paper, and ridiculously flat. I had hoped that the spin pins would save whatever faith I had left in my ability or potential to style my hair but unfortunately, they don't. I don't know if it's just me or the specific spin pins I got, but whenever I try to make a bun with them or style my hair, they'll fall out. They don't seem to hold a bun in place or stay in my hair at all. Although they work some times, they don't work the majority of the time so it's a big frustrating. I love the idea of the spin pins. I just don't love the darn spin pins. I'm giving this product a 3 out of 5 rating for innovation and from reading the other reviews, it seems like it works for most people. Maybe I'm just unlucky
Great for quick up do's
I have been waiting to try these for a while, and I'm not disappointed! They are easy to use, working just like a screw righty tighty lefty loosey. the spin pins are great for a quick bun or a french twist. The pins are hidden in the hair and they hold very well.
They are really good. I use them to do my ballet buns and they hold really well. I mean sometimes they bounce a little or jab into my head but I've gotten used to it because it's part of life as a dancer.
these are awesome and eliminates lots of Bobbi pins I have layers so I wish to use these more often in the future but all u really need to do is follow box directions and proof works perfectly every time
An amazing product!
I was definitely skeptical at first but this was such a great investment. It's reliable and doesn't pull my hair like hair ties do; which is perfect because unfortunately I easily get headaches from tying my hair up in buns. It's so easy to use. I like to use it to keep my braid intact, as well. It keeps the layered hairs from poking out.
LOVE
I love these springy pins. You can pretty much do anything with them. I don't use hair bands anymore if I have these around. It really does eliminate using bobby pins in any hairstyle your trying to do. The best part is, you'll only need one or two. The hair style won't fall off! Oh, and these don't hurt, unlike bobby pins.