Sleek and Shine Leave-In Conditioning Cream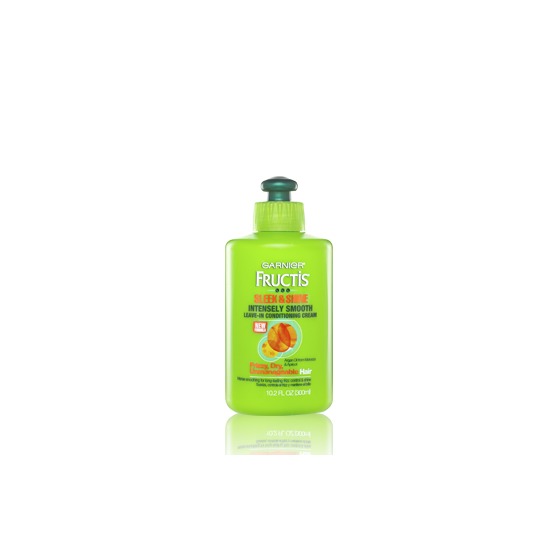 Rollover image to zoom
Reviews
decent stuff
my mom uses this cuz she has wavy/frizzy hair, but I've always struggled with fly always and so would try this in the mornings after brushing my hair. I noticed it would give my hair a greasy look at the roots, and I have normal hair. I will say tho for the price the bottle has definitely lasted a long time, at least a year.
Great stuff, but...
I use only a dab of this in my hair when I get out of the shower. My hair is very curly, but when I use a lot of this my hair shrinks up A LOT. It gets very kinky. Dont mind it, but I could use another product for that. Other than that the smell is fresh and clean, just like garnier fructis. It smells very fruity.
This stuff is amazing my hair used to be gross, breaking, dead, and just plain out not cooperative. This product isn't sticky and smells WONDERFUL! so you would never have to worry about someone thinking your hair stinks. Plus it lasts 3 days! So the bottle will last longer. My hair now sways and shines. Unlike how it used to stay stiff and was greasy!
wonderful,affordable
this is one of the best affordable leave ins you will ever get.If you haven't tried it please do!I gives you moisture,smoothness,sleekness and makes your hair feel great.You won't regret buying this product.
Yaasss
Smells great and is cheap! When used in combination with the other products in the line, there are definite results. I used it all last year to help with frizz and keep a bottle in my room at all times. It stopped working as well for me (I think my hair got used to it) but it is great for days when I'm not going anywhere important and just want a bit of frizz control. Definetly recommend!
I really luv this! I used to get it a lot! But I stopped getting it, cause, well I have very Curly & Frizzy hair! & I found out how to control it, & now I just use moose & gel, I no longer use Leave in conditioner! But when I did! IT WAS PERF!
This product is absolutely worth your money! It is a great product to use and it stays in you hair for a long time, keeping it refreshed, and smelling good. It is a great price, I think it was like 3 bucks, and it smells amazing a makes your hair super soft! It is definitely worth the money!
not a fan of garnier hair products but this stuff is awesome and smells great didn't use it long but its worth the price don't need a lot of the product and lasts forever
My grandma have me this because I use to have really long hair and it would get tangled easily but this would help and my hair soft and the smell is just as great :)
This is my favorite product of all !! I absolutely love it !! It minimizes frizz it detangles my hair when I get out of the shower it leaves it incredibly smooth .. And the smell ohhh the smell its A-mazing !!