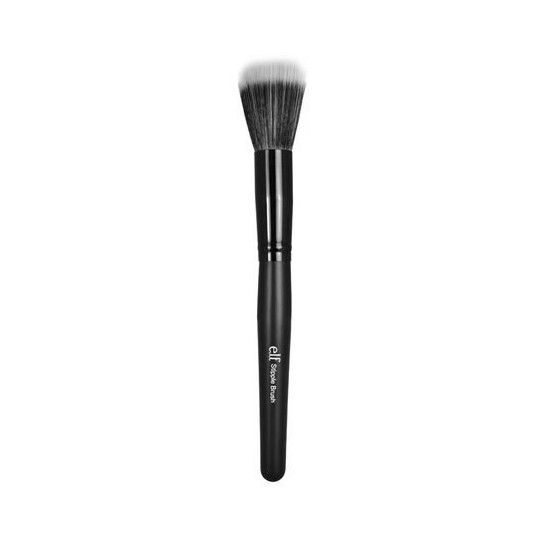 Rollover image to zoom
Reviews
Horrible brush
BOO! i was so excited to get this (esp since it was so cheap) but man was i disappointed. The bristles are way too weak and i wasnt able to get a good finish. when i used it, i ended up swiping it across my face as i would if it was a reg. foundation brush.
Bristles Are Not Dense Enough
brush is really small. the white bristles are not dense enough. theres only a few of them thus causing them to clump together when wet with foundation. Does not give a nice finish.
I'm a happy camper!
Read reviews and seems like not everyone's satisfied with this brush. I bought one (and the small stipple brush) and I'm using it everyday. I keep reaching for it instead of my Real Techniques buff brush (Core techniques). I use it for BB cream mixed with a bit of liquid foundation. I use the small brush for my peach lip-cheek stain. :)
$3.00 for a nice stipple brush. Love that. This is a small stipple brush and I usually use it to apply for moisturizer so I can get an even coverage with my moisturizer. It has worked wonders for me. I also use it to apply my foundation to get a better airbrushed and flawless finish. Thanks ELF. Girls looking for purchase on budget invest in this brush you would like it.
This is the only brush I use to apply my foundation. I pat my foundation on with elf stipple brush and it leaves an airbrushed finish. This brush is Super affordable I only spent $3.00 on it, the quality of the brush is amazing, sturdy, great quality hairs, no shedding, this brush works better than my $20.00 stipple brush from another brand. Elf stipple brush is also Easy to clean, and does not fall apart after you wash it. If you're looking for a stipple brush that gets the job done with out shedding and leaving little annoying brush hairs stuck to your foundation I recommend THIS ONE!!
my fav brush
I luv this brush I have two one for foundation and the other for blush it really packs on the color to my cheeks and blends perfectly the small stipple bush is a must have as well for u deer eyes and bronzer
LOVE LOVE LOVIN IT!
I have dry skin and u finally foundation that worked for me but the thing is I didn't have any stipple brushes which I heard are really good for liquid foundations.So I looked on sephora,m.a.c,benefit ,everything!!But alas the brushes were $35+ and I can't afford that then I found this $3 brush and immediately bought it.I came home and applied the foundation in circular motions with this stipple brush and I LOVED IT!my skin was absolutely flawless.i couldn't ask for more.Thanks E.l.f!
Like It
I just ordered this brush and I actually really like it. I had their foundation brush and like this one way better. I was able to get a more even application with it. I use it with liquid foundation and it works pretty well. I saw several reviews that were disappointed so it all depends on your application preference.
Too flimsy!
I really needed a good stippling brush, and I hadn't owned one prior to this one, I figured ELF was a good route to go since I like some of their other studio brushes. Well, I was wrong. This brush is extremely thin, and the bristles are too long, which makes them too flimsy to really work with! I wanted to use it for liquid and cream foundations, but it just doesn't cut it for those. It does almost nothing. I did find that I can use it fine for applying a highlighter, like Too Faced Pink Leopard which I use on the tops of my cheekbones, but that's about it!
I like using this brush for cream blushes but I that's all I can really think of. I use to use this brush as a foundation brush, but it's too streaky and doesn't apply that nicely since it's not dense and compact. But luckily the price is affordable.