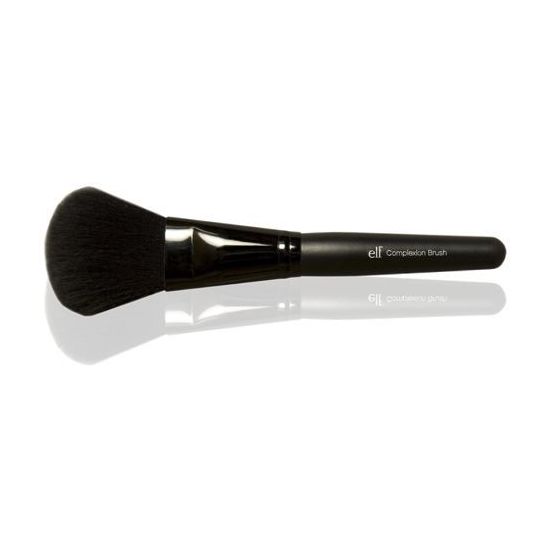 Rollover image to zoom
Reviews
Mary Anne M.

Jul 08, 2012
2 Years of Almost Daily Use, and Still As Good As New
I always hesitate to purchase cosmetic brushes because I am a painter, and I use paint brushes that are economically priced and still effective for good paintings. With that mindset, I didn't want to go blowing more than $10 for the cosmetic brushes everyone raved about, if I could find far more affordable brushes that could do just as good as a job as any other designer/high-end/cult favorite brush. And I'd have to say, I bought 7 different e.l.f. Studio brushes and they're all winners, including this complexion brush! For $3 this brush was fabulous; the bristles are very soft, and they picked up a good amount of mineral powder in a single dip, not too much like my Ecotools brush did. During the entire time I used this brush to apply my foundation, I never experienced any flaws with the brush itself—there was no bristle fall out even while washing it, the handle and ferrule always stayed in tact, and the design of the brush is very simple and elegant. Since the hairs are synthetic they're easy to wash and even easier to dry since they don't absorb moisture as much as natural hairs do. I see a lot of people are commenting on using this brush for blush application, which I think is okay if the blush is very sheer or the blush color is just a slight difference from your skin tone or foundation, but if you like dramatic blush or contouring, I would advise using a smaller brush than the complexion brush, like e.l.f.'s Studio blush brush, so that the application is less overwhelming and easier to control. I have only bought one of these complexion brushes, and have been using it since I bought it (at this point, I have been using it for more than half a year). If for any reason it does break, which I can't see that it will anytime soon, I would still buy another one in a heart beat.
Jan 25, 2013
Amazing Quality!
This brush is absolutely insane! It's so soft against my skin, (seriously, it feels like I'm petting a rabbit!) I've never seen a brush that is such good quality for a drop-dead amazing price! I would have to say it may be even better than any of my brushes! Even the expensive ones! This is a very great quality brush, I think.
Better than a "professional" brush!!
I love, love, LOVE this brush. I've had it for what seems like forever, and I've washed it countless times and it's never shed once. I have several other 'professional' brushes that are 'real hair' and this one tops them all. The other 'pro' brushes I have all began to shed all over my face and fall apart after several cleanings, but this brush has stayed like-new. I normally don't like synthetic brushes, but surprisingly that's the reason I love this brush. It's amazingly soft for a synthetic brush, and it distributes powder perfectly. And you can't beat the awesome price. The only complaint I have is that when I wash it, it does take quite a long time to dry, number one because it's synthetic, but number two is because it has a lot of bristles and they're very tightly packed at the base. Sometimes, I'll blast it with my hairdryer to speed the drying process....but be careful if you do that because you can melt synthetic bristles together with high heat. Otherwise, this is an amazing brush that's worth so much more than I paid for it!!! Don't waste your money on expensive 'real hair' brushes.
Sojourner W.

Aug 01, 2012
The Best Brush Along With Their Powder Brush!
I thought when I tried the e.l.f Powder I had tried e.l.f's best brush, but this Complexion Brush is giving it a run for its money. I think this is the best inexpensive powder brush you can find. The bristles are really soft and fluffy, so it feels absolutely magnificent on my skin. This brush is very large which I love because it makes putting on powder quick and easy and covers a lot of my face. The look of the e.l.f studio brushes are always sleek and black, which I like, and luckily this hasn't broken on me yet because the handles of these brushes tend to loosen. Originally this brush is $3 at Target or the e.l.f website, but I had a half off coupon code so I got it even cheaper, but even at regular retail price it's worth it. I would recommend this brush to any makeup lover, especially if you wear powder every day. Bottom Line; Get it, the price is good and the quality is excellent! Pros: - Price - Quality - Size - Texture - Availability Cons: - You don't own it yet! - But seriously, none.
enjoy
I enjoy this brush, great price. I use it just for my blush. It picks up well and goes on smooth. easy to wash and dries quickly. I haven t had any shedding .
Love it!
I've only used it a few times because I don't have my own yet, so I use my best friend's when she's around, and it's great! I use it with Maybelline Dream Matte Mousse Foundation, and it spreads everything perfectly and evenly without caking! I'm getting my e.l.f. Studio Complexion Brush in the mail this week and I can't wait! It's very soft and it's even better than the expensive Bare Essentials brush I have! This brush was only $3! Can't get any better!
Nov 30, 2011
This is a good brush
This brush is soft, picks up a good amount of product and does not shed after you wash it. I find that the brush is good for putting on blush and also powder since it is smaller than a powder brush it gives you better control. The only problem I have with it is that when you wash this brush and set it out to air dry, it takes about a day or two for it to dry completely. I guess since it is a fuller brush. I think if you do want to use this daily you might want to pick up a couple of them; since this is such an affordable brush. I would definately recommend this brush.
This brush is so soft and does not shed like the one dollar ones do. The only downfall would be the handle. It isn't very sturdy and I can tell it is going to fall apart soon. Other than that, this is a good brush and worth the three dollars.
Oct 11, 2011
love this brush and all of the ELF studio line brushes its so so soft such an amazing price does not shread at all picks up product well love it :)
well
it is very good, it picks up a lot of color , but the bamboo complexion brush it better i every way. the bamboo i so much better to hold and you got more control over waht you are doing . but i love both.