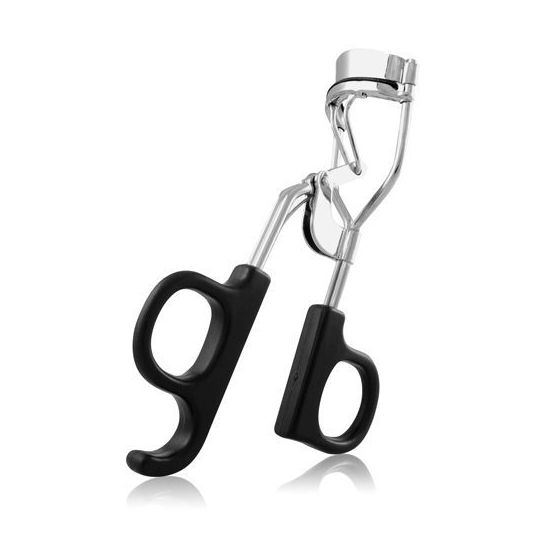 Rollover image to zoom
Reviews
LexeyAmber B.

May 04, 2011
Its good
The Mechanical Eyelash Tool is pretty easy to use, it makes your eyelashes look long and full, the only issue I have is the spring that causes the curler to snap back, it is kind of hard to keep it clamped and when you relese the curler practically flies out of your hand like a high powered rocket lol Other than that for the price and the quality it is a really good product :)
Aug 08, 2012
Me Like
I really enjoy how easy you can use this curler. The handles are very comfortable and the springs on the curler make it easier for the lashes to curl. Especially since my eyes are somewhat flat, the curve on the curler isn't very curved. I like this because it fits my eye shape compared to others, and also affordable!
Jul 22, 2012
After an incident in which an eye lash curler actually broke off my lashes i had pretty much made the decision to not purchase or use any eye lash curler ever again. A few years later i decided to give one a try and borrowed the eye lash curler from my friends make up bag. Fell in love right away with how great it worked and asked her right off the bat how much money she dropped on it. A big surprise when she told me a buck! I definitely had to get my own and have been using this curler ever since... Definitely does the job!
I was really surprised by this. It was only a $1 and it came with a replacement pad. (haven't bought an eyelash curler that gave you an extra on before) It curled my lashes really well and I'm super happy with that. It's really stable and this is the first one that hasn't pinched my eyes either. Love it!
Amazing!
This is the best eyelash curler ever! It has a nice sturdy grip and it is easy to use even for beginners. This makes your lashes look very lengthened and defined. The curl also lasts all day! I began using this when i started using makeup 1.5 years ago and it still works amazing. I would definitely reccomend this and its only $1!!!
Fantastic, and cheap too!
This eyelash curler works so well, especially for the price! You can pick this up at Target for only a $1 and it comes with a replacement rubber pad. I use this everyday, it catches every lash if you get it at the right angle and gives optimal curl.
Sojourner W.

Oct 29, 2011
Amazing For The Price!
I am an e.l.f JUNKIE so when i saw the eyelash curler at my Target I got so excited! I think this tool is amazing for the price because it curls my lashes so beautifully. I really like pairing this with my Falsies Flared Mascara because this tool curls them and then the mascara curls them even MORE to my liking! It's just amazing quality for the price. Pros: - Price - Quality - Curling ability Cons: - Not sure how to get refills - Availability xoxo Sojo http://www.thesojochronicles.blogspot.com
Oct 29, 2011
Loves it!
E.l.f is a affordable brand for any person. This eyelash curler, curls great! I love it. I tried high end curlers as well and this can be highly compared to them.
Easy to use, curls nicely
Between my Shu and this one, I tend to reach for this more (I know-crazy right?! Hehe). Maybe it's the way the curler is built, but I just feel it gives a better curl, and it's so cheap! I also like how it's more easily accessible than the Shu..I had to hunt that baby down in Hong Kong! this one was a few miles away at Target. Of course, the Shu is more durable but for the price of the elf curler, the quality is there.
This has to be the best eyelash curler I have ever used..before I bought this I stopped using the ones I had because frankly I was tired of pulling at my lashes and the curl not holding...curls my lashes beautifully and holds the curls..:)