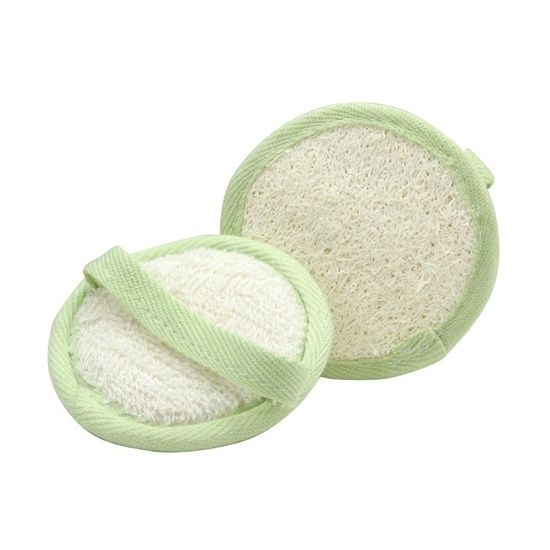 Rollover image to zoom
Reviews
Didn't like at first...Love it now
Ok so first off, the loofah side was a but harsh and hard against your face. You really just need to break it in because its very compact when you first buy it. If you hold under hot/warm water for a minute and bend a bit it will loosen and the loofah side will slightly grow. Once this is done and you get your face wash on it it's the best exfoliating tool I could ever own. If you feel a breakout coming on but there aren't many spots yet, if you give your face a nice scrub I find most (if not all) spots will clear fast. Love this, better than a wash cloth by far.
What a disappointment...
These facial buffs perplex me.... First of all, they are very stiff. Its hard to use them around the curves of the face, such as the nose and eye area. They are hard to bend around curvy areas, and thus it makes it difficult to use to exfoliate or cleanse those areas. The exfoliating loofah side is extremely rough. This is a very harsh exfoliation, and I imagine that most people will find it too rough. It turned my skin red, and I don't think thats healthy for it. The other side of the facial buff is a MUCH softer but still mildly exfoliating fabric, kind of like a washcloth. But I'm not sure if this side is supposed to be used, because the strap that you use to loop around your hand is on this side, and it doesn't move to the loofah side very easily, though you can do it. I tried to use that side on my face, and though it was much more gentle, it was still too difficult to maneuver around the curves of the face. Personally, I think these are not worth purchasing, at least not for the face. They just seem too harsh for me, and are too difficult to use. Its almost as if EcoTools took a body loofah and just made it smaller for the face, without taking into account the fact that facial skin is much more delicate and sensitive than the skin on your body, and that you have to make a facial buff or cloth flexible so you can bend it around such small areas. However, they might work well for body exfoliation. I will try this later and update this review with the results.