Rollover image to zoom
Reviews
This is an overall magnificent makeup brand and these polishes are amazingly opaque and long lasting, I love the color selection and the amount that you get in a bottle it last you a long time, love it!
My all-time favourite nail polish! It dries quickly, you only need two thin layers and the colours and names are awesome! I own about 50 bottles, I don't need any other brand
I love these polishes. The colours are beautiful. I love the brush applicator, it is wide and allows for smooth application saving time. I feel that you really don't have to apply lots of product to get a beautiful colour, which is great! Thay are honestly very cool and the price is also very reasonable. Love, Love, LOVE them!
I have "Meet Me at Coral Island" and it easily lasts 4 days chip-free. It dries out fast and the brush is awesome, applying thin coats and covering most of the nail in one take.
I am really sad that these polishes have such poor quality because the colours and names are absolutely brilliant. They have dreamy nude colours. The consistency is too thick and they dry relatively slowly. Catrice nail polishes are frustrating; they don't seem to dry at all so your mani gets ruined too easily. I've had 3 that did dry: a gorgeous nude, blue jean and a light green. They didn't last long on my fingers. They now serve their duty as craft paints
Affordable and great polishes!
I have always loved the catrice nailpolishes. I have A LOT of them and I love each and everyone of them. They recently came out with new colours and a new brush. The old brush was thin and cheap, but the brush now is thick and wide and brings the polish on smoothly and even. I really love these and I can't stop buying them. love these!
i bought 2 shades which r 1.meet me at the coral island and 2. caught up on a red carpet, i really feel that they quite last so long, the texture and the color r so brilliant. Even though im new on applying nail polish but i can apply it effortlessly.Love them mwaaaaaaah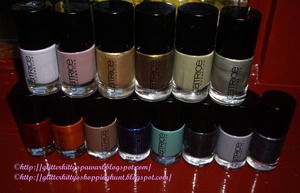 Big fan of these polishes
I love love love Catrice from the beginning they start producing their new shades, and now they got also newer shades with an wide brush wich are defenately on my wishlist at this moment. I do own all colors, except the polishes with the wide brushes, so I miss 12 shades or so. Most colors are good, depending on wich color you get, you need two coats. And for the prize... awesome. On the pic my latest Catrice Ultimate Laquers so far...
VERY NICE
I have 2 shades of this polish: Poison Me, Poison You; and Clay-ton, My Hero. Poison is a warm purple with shimmer, a really gorgeous color. It applies completely opaquely in 2 coats and is relatively long-lasting. I do get some tip wear on the second day, but the color starts coming off after about 3-4 days. For me, this is pretty long. Most polishes last only about 2 days. Clay-ton is a muddy green color with golden shimmer. It is not nearly as opaque and needs 3 coats for it to more or less cover my nail completely. The staying power is similar to Poison. Both dry quite fast. All in all, I do like these polishes, they are quite good for the price and offer a very interesting variety of colors.
I recently bought two catrice nail polishes, a blue and a kaki one. And I think they are very good. One coat is enough, but two coats stays on a bit longer. The colors are beautiful and they look exactly like the bottle. The only thing I didn't like so much, is that the nailpolish is very runny, I always have to be carefull that everything doesn't drop from the brush before it gets on my nails.