Very Volumizing Pomegranate & Soy Shampoo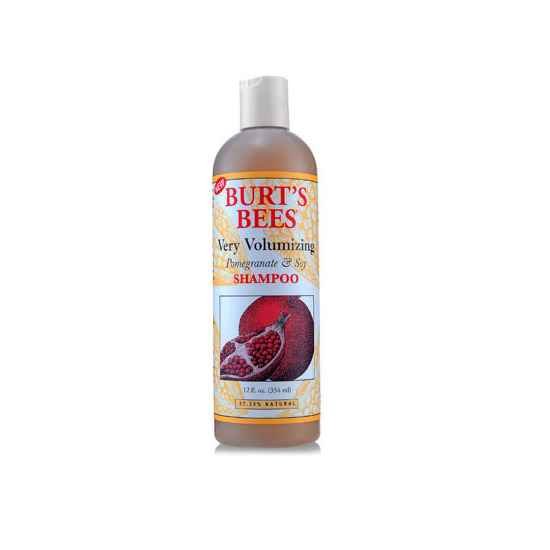 Rollover image to zoom
Reviews
This shampoo makes my hair thicker and shinier, but I can't use it every day or it dries my hair out. It's sulfate-free so it's supposed to be more gentle (and it is safe for color-treated hair), but I suspect this shampoo deep cleanses in order to give hair more lift and volume.
Smells good, can be drying
It smells great, it cleans very well but can be very drying. If I used it everyday it would make my scalp start to hurt, which is a bad thing of course. I use it for a good deep cleaning once a week or so with a nice deep conditioner. It's doesn't create much of any volume to my hair or anything like that. Once it runs out, I won't be buying it again.
I've been a fan of Burt's Bees ever since I purchased the chapstick, which I carry with me ALWAYS! Another brand my mother, the organic-nut, introduced me to. Burt's Bees Shampoo is 97% natural! This formula contains natural ingredients like coconut, sunflower oil, pomegranate & moringa seed extracts, it also contains Soy amino acids. It's Sodium Lauryl/Laureth Sulfate free, paraben free & phthalate free! And best of all, it's NOT tested on animals! I've used BB plenty of times and it's never disappointed. It's works wonderfully on my hair, doesn't leave that hay-like feeling after rinsing & the smell of the pomegranate is heavenly! And the best part of it? It's inexpensive! I recommend this product without a doubt!
I use this about once or twice a month when I feel like my hair's gotten too oily/greasy. I like the smell of it. It does take a bit to work it into your hair without using too much of it. And it is very drying if you use too much. For my uses, I like it and really don't need much more. Mostly likely won't be buying it again when it runs out.