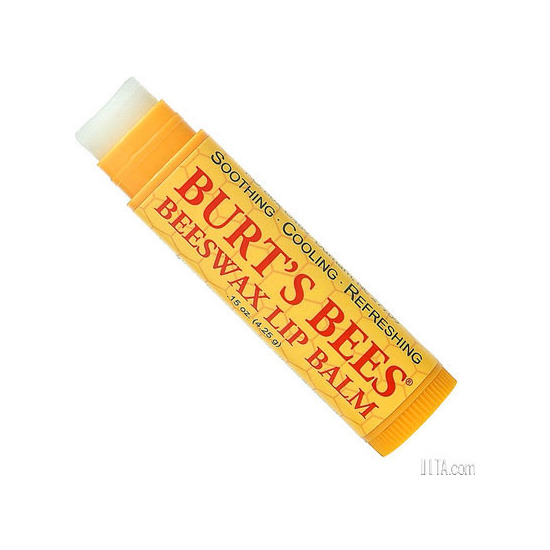 Rollover image to zoom
Reviews
Not bad, but not the best.
Burt's Bees definitely isn't my favorite brand when it comes to lip products. The beeswax balm isn't bad but I like some other brands better. The cooling mint sensation is my favorite thing about this balm, but other than that I think it's only "okay." The formula is thicker and waxier than I would like, and it's actually very hard to apply when you open a new tube - it doesn't go on smooth until you've been using it for a while. It feels good on your lips for a little while but when it wears off your lips feel drier than before, so I wouldn't say that it's "moisturizing." I'll use up the tube I have, but after that I probably won't buy this balm again.
No Longer Available D.

Dec 22, 2011
Your Best Friend During the Winter!
I got one of these from one of my kits that I got as a gift and I really love it! It's very moisturizing and really does keep my lips hydrated. I use it as a base before applying lipstick and it really works great for that. Helps keep my lipstick on longer as well as keep my lips from getting dry from the lipstick formula itself. Great product! Totally would recommend!
Mmmmm peppermint!
The hint of peppermint helps refresh your breath while you're on the go and you have no gum! You can see the condition of your lips improve throughout the day and keeps your lips moisturized. Perfect for glossy or satin lipstick: I apply burt's beeswax all over the lips, take a tissue and press it against my lips until some of moisture is off then apply my lipstick! try it! ;)
good but not amazing
it excellent for chapped lips however the wax is very overpowering and you have to apply a lot to get a good amount of moisture, overall i would recommend but definitely not my favourite brand for lip products
Best Drugstore Lip Balm Ever!
VERY refreshening and hydrating. It really help to moisturize lips. Not greasy at all, so it's perfect for layering it under lipstick or lip gloss. The one with peppermint oil is the best! The other kinds feel greasy on the lips.
Mango One!!
I love the mango one it left my lips feeling soft. I love the smell and taste, it is amazing. I have had people comment about what smells like mango! They were shocked and they loved it when they purchased it!
Smells Good
A nice lip balm, all the flavors smell nice. However they don't taste great. I prefer the fruity ones over the minty one, but that's just my opinion. The minty lip balm does not apply on very smoothly at all. However the fruity ones glide on pretty smoothly and make your breath smell great!
Love This
BURT'S BEES IS THE WAY TO GO! I use their lip balms everyday! It leaves your lips moisturized and soft. I also love the different scents/flavors of them. I definitely recommend Burt's Bees Lip Balm with Kokum Butter! It's the best, it "ultra conditions" your lips; great for winter or any season!
OH MY GOD I LOVE THIS! It makes my lips so smooth! I love to put it on my lips when they are dry because it makes them feel soooo good! <3 I use this almost everyday and I'm in love with it!
Absolutely Dreadful
I don't understand how this product has such rave reviews! This balm did NOTHING to help chapped lips, did nothing to prevent chapped lips... Really it did nothing at all! I felt like I was rubbing a beeswax candle on my lips, and that's about as much benefit I got as well. The smell is nasty and medicinal, the texture is waxy and uncomfortable, and it didn't provide or maintain any moisture whatsoever. 0/10 Would not recommend.