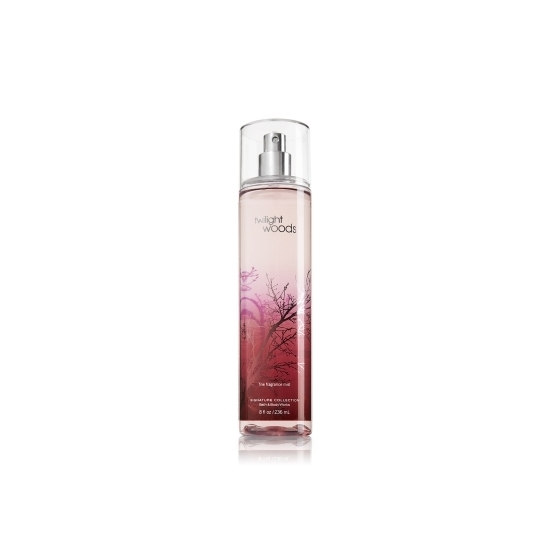 Rollover image to zoom
Reviews
Amazing
I also have the lotion and I use it every day!! I recommend to get both the spray and lotion! <3 It is like a sweet fragrance that reminds you of a kind of sugar scub and if you don't have it go get now it is worth the price!
AMAZING !! MY FAV. !!!
I love love LOVE THIS !!! it's my FAV scent !! Ever ! It's just perfect ! It's spells so good and it's girly and nice I've had 4 of them
Price and smell
Bath and Body works is the best store ever. I always buy everything except really nice perfume and some body splash that I get form Victoria's Secret and Hollister. The smells are always great and the prices are right too! Sometimes the smells care a little too fast but worth every penny.
B&BW is my addiction
Twilight woods is a really nice fall type of sent :) it really does smell amazing. Bath and body works surprises me every time <3 anyone else have a hundred hand sanitizers v.v
Veryyy Good!!!!
I recieved this as a bridesmaid gift! I love it.. It smells in between a Britney spears curious && Nicki Minaj. Def will be buying it more often. It helps that iys suoer cheap too!
Christmassy
I really like this sent especially during Christmas time :) smells great and warm but if u like floral stuff, it's not for you. But overall I really like it and its in my top 5 favorite perfumes.
I loove this! It has definatly been a January and December fave! I like using it when it's cold outside, to me it smells great and I love it! I would deffinatly recomend this! I accually just used all of mine :( Boo! LOL
Warm
I discovered this scent while Christmas Shopping Last year I believe and I use it everyday! The smell is really warm and great to use throughout the winter season. The bottle is pretty and so is the smell. A little spritz is all you need. Great smell for a great price.
Love it!
This smells so amazing! It's a very deep, unique scent. I like to use this in the fall and winter since it isn't a very good summer smell. It lasts forever since its such a big bottle, so it's a really good deal! I also think the new packaging is really cute.
Did they get the name for this Product from the movie Twilight is it just me?
I really love trying this Product on it smells very good and I want to buy it but I have never got around to buying it yet. What is in this body mist that makes it so good to smell? I'd like to know why I like it so mush?