Positively Radiant Daily Moisturizer SPF 30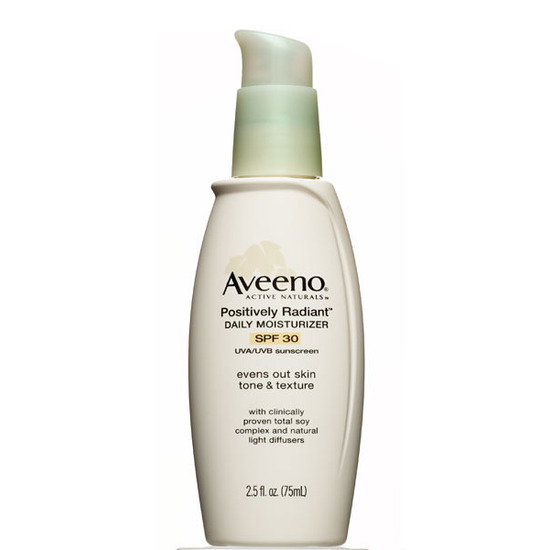 Rollover image to zoom
Reviews
THIS MAY BE THE TOP FACIAL MOISTURIZER FOR NORMAL SKIN IN ALLURE'S BEST OF BEAUTY 2011, BUT IT'S NOT VERY HEALTHY!
Check out this review of Aveeno Positively Radiant Daily Moisturizer SPF 30: http://bit.ly/scpO21 This product gets a hazard rating of 6 out of 10! Did you know that ALUMINUM STARCH OCTENYLSUCCINATE can cause: Developmental/reproductive toxicity, Neurotoxicity, Organ system toxicity (non-reproductive), Contamination concerns (ARSENIC, LEAD, HEAVY METALS)? And OXYBENZONE (ACTIVE INGREDIENT) can cause: Developmental/reproductive toxicity, Endocrine disruption, Allergies/immunotoxicity, Persistence and bioaccumulation, Organ system toxicity (non-reproductive), Enhanced skin absorption, Biochemical or cellular level changes?
For dry skin!
I have had allergic reactions to almost very moisturizer out there. Even if they came from vegan or organic lines, I still had a reaction. I decided to try this and after one use my dry flakey skin became as smooth as a baby's butt!
This products works really really well. I stopped using it because it was so expensive but I would def recommend it for anyone who has dry skin. It makes dehydrated skin feel like it's just had a huge glass of ice cold water- best way to describe it
I have combination-oily skin and have been using this product for three years. I do not need a lot and it keeps my face moisturized all day. It does not have that greasy feeling, unless you use too much and I haven't noticed a funny sunscreen smell. I found that it makes a great base for my foundation.
Awesome
Love this product. I have oily skin but this goes on nicely so long as I do not have any other moisturiser below. Absorbs great but not sure about if its helping with the skin tone.
This moisturizer was just to heavy for me no matter how little i but on my face it gave me any extra shine that did not want. However it did make my face feel very soft and never dry.
Perfect for my skin type.
My skin is combination and I need a good moisturizer. I love that this product has SPF 30 already in it. I like mixing this moistureizer with my foundation for that light coverage feeling. I find that if I put too much product sometimes it rubs off if I try to work it in too much. But over all I cant go with out this product if I want a flawless finish on my face,neck and chest.
Great Moisturizer!
I use this moisturizer when I get out of the shower and it leaves my legs feeling super soft all night so they are still soft when I wake up in the morning. I also use this product on my elbows because they are alwasy the first thing to dry out on my body and it keeps them moisturized all day long. Great product!!
I love this moisturizer :) A little goes a long way and it makes my skin feel great! I think it has evened out my skin tone and gives it a glow once it sets in my skin. I love applying this on my face, neck, and ears. It keeps my skin moisturized and is a nice base before my makeup. Even on days when I don't wear makeup I use this and my face glows :) It smells like sunscreen but so does my hard candy tinted moisturizer. I dont think that can be avoided.
Watch those eyes, ladies.
First off, anything with sunscreen is kind of going to suck, as far as moisturizers go. I hate that greasy, filmy feel I get, no matter which one I've tried. This one is no exception but has a nicer texture than many. And may Jesus have mercy on your soul if you happen to get this stuff in your eyes- I was seriously incapacitated for like an hour after accidentally getting some in there. You have to reapply after a few hours too or the sunscreen sucumbs to the elements (ok- and my sweaty forehead).