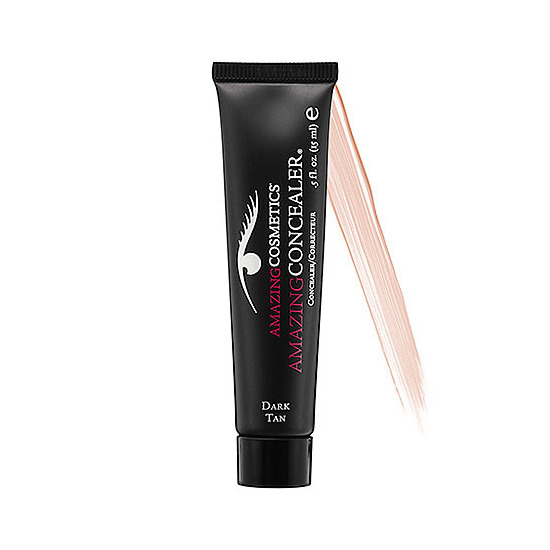 Rollover image to zoom
Reviews
Was not AMAZING!
unfortunately after I tried this... i realized it makes your skin look really dry and makes it look line you have more wrinkles and fine lines. Many other people I've talked to have had this same problem. As a professional make-up artist, I would not suggest this to anyone.
Apr 23, 2013
So this was the first concealer i've ever tried. And i thought it was the best in the world at the time, but now i know there is something better. pigmentation: you really need little to try cover up imperfections which is a good thing because the small to-go tube will last you a long time coverage: because of the pigementation it's does cover, not 100% but i would say 90%, which is still really good uses: i used it for acne scars, any discoloration and for under eyes, great for all spots one thing i have to say is i have dry skin so i see the concealer not mositurizing enough for my skin, which can result in flakiness. So I'm not too thrilled about referring this product to dry skin but i could see it working well for normal & oil combo~
Heavy Duty
I really love this concealer. I find that it can cover pretty much anything you may need it to, blemishes, scars, discoloration, and so on. What I enjoy about this product is that when I need only slight coverage, a tiny, TINY bit goes SO far. I know, we've all heard that before, but with this product you seriously only need a small amount. The price is harsh, but for the amount you need, even for heavy concealing, this will last you an extremely long time. The product itself is slightly oily and can have a "wet" appearance. My skin is typically dry, so I can't say how well this will wear for other skin types, but the consistency could cause problems for those with oilier skin. For me, this last all day long, stays put, and doesn't accentuate my dry skin. Packaging: I love that this product is in a squeeze tube. You can extract the right amount you may need easily, BUT, this is where I find a tiny fault. If you happen to squeeze even a tad bit too much (or even squeeze the tube when the cap in on) the product leaks out into the cap. It doesn't leak out of the cap or anything of that sort, but this is annoying having it messy when you take the cap off. Overall, I love this concealer. If the price scares you, I would suggest evaluating if you really need such a heavy concealer in the first place, and if you do, keep in mind that for $42, this will last you longer than many other concealers. (Any concealers that I have ever tried!)
Jan 22, 2012
my favorite!
best concealer ive ever tried, covers like no other in my opinion. ive been using this for 5 years now as i havent found anything better yet. only takes a little to get great results. i use it under the eyes only though.. i use bare minerals multitasking to cover pimples or post acne marks that have turned red or brown. i love the color of the med beige (its kind of peachy, which counter acts dark undereye circles) but i find that the light golden's consistency may be a bit thicker and actually covers better.
Amazing covereage, very oily
So first of all, I really love the coverage. A little bit goes a VERY long way. When I first bought this I paid $30-39 for it. But it lasted me for seriously a year. The only thing I don't like is the consistency its very thick and must be blended well with your foundation otherwise you will see spots and it sinks iinto the creases under my eyes. I have to keep smoothing it out under my eyes or else it will set into my little wrinkles. Its sticky too. But works extremely well in the "cover anything seriously everything" department.
Definitely FULL COVERAGE
I use medium gold and it is the perfect match for me! It is really thick but it covers everything! I don't really recommend this to cover acne, but it does wonders if you want to cover up freckles, age spots, spider veins, and etc. I use this to cover my freckles and spider veins. It gives me perfect coverage and a flawless look!
This concealer is definitely a must have! I havent tried that many concealers, maybe five or six but this one is amazing and works like no other. You dont have to use a lot. It last's all day and is perfect for under the eyes. It blends in really well and is creamy but not to creamy. This concealer doesnt feel sticky or heavy at all. I absolutely love everything about this concealer except one thing which was a crease at the end of the day, but wasnt a big deal to me because I forgot to use a little primer . Other then that this is one of the best concealers ever and I will be buying this product over again once I run out.
I love love love this concealer! It is really thick so a little bit goes a long way! I literally had to use a tiny pin drop of it and it covered all the scars on my chin. You have to remember when using thick creamy concealers not to use a lot or it will look cakey. I definitely recommend this product to everyone especially if you have scarring that needs to be covered. It also works wonders for covering tattoos.
BEST, BEST, BEST concealer!
I use Light Golden and it's great under my eyes and on my face!! Of course I have no wrinkles and super oily skin!! I set it with rice powder and it's BASICALLY waterproof! I love it!!
Apr 05, 2011
This is a great concealer for anyone with acne scars or pimples that they would want to cover up. You only need a tiny amount to conceal any area on your face. I have oily skin and so far I have not noticed any caking when using this under my eyes. I've been using the Benefit Erase Paste for a few months now and when I purchased this I got it in a shade darker. At least thats what the sales girl matched me up with. I was pretty nervous since I thought it was too dark for my skin but it was perfect. Blends in with my skin great and helps cover up any imperfections that I have on my face. It doesn't so much brighten up my eyes like the Erase Paste but thats alright with me. I would of given this 5 stars but the price is a down fall. Retails at ULTA and Sephora for $42.