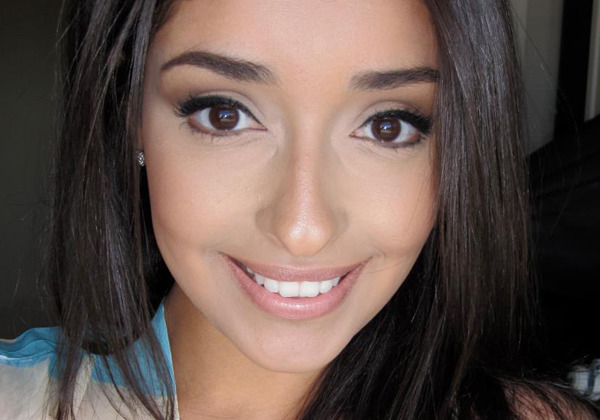 It's hard not to keep on watching Nur's aka nurberxo beauty channel since each one is always full of beauty tricks and tips. What makes her stand out is her down-to-earth personality resonates through her videos and her broad knowledgable of makeup techniques are easy to follow. Read on to find out more about the lovely Nur and and her honest thoughts on being a guru!
Q & A Nur of Nurberxo
Q: When did you first get in to makeup and who did you initially learn from?
I first fell in love with makeup at the age of 14. I'd always admired the makeup on Arab women in my mom's Arab magazines and although I couldn't read Arabic, I would flip incessantly through her magazines and just stare at all the glamorous pictures. There was one big problem though: in Saudi Arabian culture, and how my mom was raised, women weren't allowed to wear makeup till they were married, so there was a definite "forbidden apple" appeal. Let's just say I had to negotiate a lot in my strict household. Once I had permission, I would rummage through my mom's makeup and just play and experiment with everything! The first time I ever did "free-lance" makeup was for a friend's Prom when I was 15.
Q: How were you inspired to start your beauty blog and beauty channel?
Lauren Luke's "Bleeding Love" tutorial was the video that sparked the idea. I thought it was brilliant that someone would recreate looks on video! I also watched Lindsey (LindseySomething), but she doesn't do videos anymore. I felt like I had a lot of information to pass on, and so many tips to help people. Anytime someone asked me about makeup, I always had a unique and unorthodox approach because I had to learn to navigate the beauty world on my own. I needed to share it with others or else it was useless information just floating around in my head!

Q: Do you feel creating beauty videos and blogging has changed your life?
I feel like I'm part of a community that shares my passion for beauty products. When I was younger, my family would look at my makeup collection and just wonder "What the heck do you do with all that?!" Funny, because most collections on YouTube absolutely put mine to shame. I just never really knew that other women were into makeup as much as I was because no one else in my life shared that passion with me. Making videos is such a big part of my life now. I can't really remember life before making videos? What did I do all the time? Now I'm always reading comments, answering questions, jotting down new ideas. I love watching other gurus too! I always think it's funny when people say they don't really watch other people's videos like they're above it or something. Isn't that what this is all about? Teaching and learning? I personally prefer watching YouTube videos over watching TV. Shh…don't tell anyone!
Q: Were your family and friends supportive of you making tutorials and becoming popular on YouTube?
They are way more than supportive! My sister watches all my videos and she is the person who I go to when I'm facing a challenge. She has this very sensible way of making decisions about right and wrong and politically correct. My younger brother bought me my Macbook last year when my other computer crashed. He knew how much I loved making videos and his only condition was that I make videos more frequently, so you all can thank him for that! My older brother is my counsel on the health issues that people ask me about-dieting, fitness, even skin. He's in med school right now, but my whole family already calls him for all their issues. Whenever we ask for advice, he always humbly starts with "Guys, I'm not a doctor yet." I have the best siblings in the world!
I've only told a select number of friends about what I do because people can really be condescending. If you don't get it, you just don't get it. But the friends that do know are so supportive. There's a certain self-sabotage when it comes to making videos too. I remember trying to ask my friend Katie (from the "Hey Everyone" video) something about work and she was watching one of my videos and she says "Shh, I'm trying to listen to you!" My sister has done the same thing. She won't respond to me online if she's watching my videos. It's like, "Hello people, you can listen to me live!" I think it's hilarious though. Cracks me up every time.

Q: What is the toughest part of being a guru?
Staying intimate with my growing audience is tough. I always want to give people my full  attention and answer their questions thoroughly. Sometimes I wish I could just call people and have a conversation with them about whatever it is that they have questions about. Beauty hotline anyone? The questions people ask me encourage me to think analytically. Some things I've done for years and I've never stopped to think about why, then someone will ask me a question and it dawns on me that there's a really good explanation for it. I thank you all for that. It makes me a much better teacher. In that same token, I wish I could convey the sincere gratitude that I have for every single person that watches my videos. My viewers make my bad days good and my good days better. I read every single comment, question, and email that is sent to me. Most of the time it's on my phone though and I can't immediately respond, but trust me, I can remember those who always write comments on my videos and I thank them from the bottom of my heart.
Q: What is the best part of being a guru?
It melts my heart when people say that they've learned something from me that makes their life better. People already have the potential in them to be great, they just need someone to come along and spark that in them. That's what makes this whole thing worth it. People make a big deal about us teaching things about makeup because it seems superficial, but the world is a better place when we all feel good about ourselves. That's when we're able to help others- when we feel confident, capable, courageous- it all starts inside and makeup is a medium to begin that process. I've done makeup for a girl my age who had cancer and another woman who had alopecia and I can tell you from personal experience, makeup is a miracle.
Q: Who are some of your favorite gurus?
I love watching people who are down to earth and relatable.
I also like people who do things a little differently like CarlyCristman's fashion videos and KatiePucrikSmells with her scent reviews.
And of course, there are the oldies, but goodies: Lollipop26, Vintageortacky, Pixiwoo,QueenofBlendingMUA, ginabinawina99, gossmakeupartist, juicytuesday, emilynoel83, and michele1218. I like what Holly (hollyannaeree) said- if I'm subscribed to someone, I watch and love their videos. I watch Holly too!!
Q: Do you have any advice for other Beauties that would like to start their own channel?
Be yourself, share something of value and have fun! There are so many girls doing videos now so you really have to stand out. Don't focus on subscribers or beg for them- people will notice you on their own. I'd rather have 1,000 subscribers whom I really interact with rather than 50,000 who can't remember why they subscribed and have nothing to learn from me. The guru with the most subscribers doesn't get automatic entry into heaven, you know. Embrace and support your fellow gurus. And if you don't like the way something is done, do it your way and do it better- you don't have to be a lemming. Make videos for the right reasons. I know that's such a subjective statement, but people will quickly figure out if you're in it for the wrong reasons. Don't insult our intelligence.

Q: Do you have a signature look that you are recognized for?
Simple, neutral eyes and winged liner! I think that's so funny because when I was younger I never wore neutral eyes. NEVER. I always coordinated my eye makeup with the clothes I wore and I just thought neutral eyes were boring. But as I've gotten older, neutral looks are easy and fast and appropriate for work. That's the great thing about YouTube, I get to do funky, colorful looks, even if I just do the tutorial and wash it off. Ha!
Q: Can you name 5 products that you cannot live without? 
Can I be disobedient and name 6?
Origins Quick, Hide! concealer in the color Neutralizer – No other concealer counteracts the darkness under my eyes like this concealer. It's truly amazing!
Bobbi Brown Loose Face Powder in Pale Yellow – The best powder for setting under-eye concealer. I've tried so many, but this just adds a little bit of coverage, lasts all day, and keeps the under-eye area looking bright.
AHA (Walgreens brand or Acne.org) – Alpha Hydroxy Acid makes my skin glow. I always say it's a miracle product because it clears your skin and moisturizes it at the same time so there's no worrying about it drying your skin out.
Yon-Ka Pamplemousse Moisturizer – Wow, wow, wow! I discovered Yon-Ka products at a spa last winter break and got a sample of this moisturizer. It's the perfect moisturizer to use before makeup application. It fully absorbs into the skin in less than 30 seconds and it doesn't resurface and make your face oily at the end of the day like a lot of other moisturizers do.
Estee Lauder Double Wear Foundation – I've been using this foundation for about an entire decade now and I cannot find anything that even comes close. It makes my skin look flawless, lasts all day and never ever breaks me out. And although it's full coverage, it can be sheered out with a damp sponge.
Beautyblender sponge – Often imitated but never duplicated. This is the answer to flawless application. Sometimes I'll try to use my fingers or a brush and it just never looks as good!
Q: Do you have any insider beauty tips for our Beauties?
One of the most important concepts in makeup is layering. I layer my foundation, concealer, mascara, blush, lip products. Everything lasts much longer when it's layered versus just using something in excess. I think sometimes people are afraid of this because they think it will look overdone. Layering is a technique to be mastered, but I discovered it myself with no guidance, and trust me, if I can do it, you can do it too! I intend to make a video about this, so stay tuned!
Q: What can we look forward to next from nurberxo?
I would like to do a charity collaboration project with other gurus. We all have such a global influence, why not use it to do something to make this world a better place? Writing it here makes me publicly commit and now I'll have to follow-through!
Comments