Character Study: Cindy Sherman at the San Francisco Moma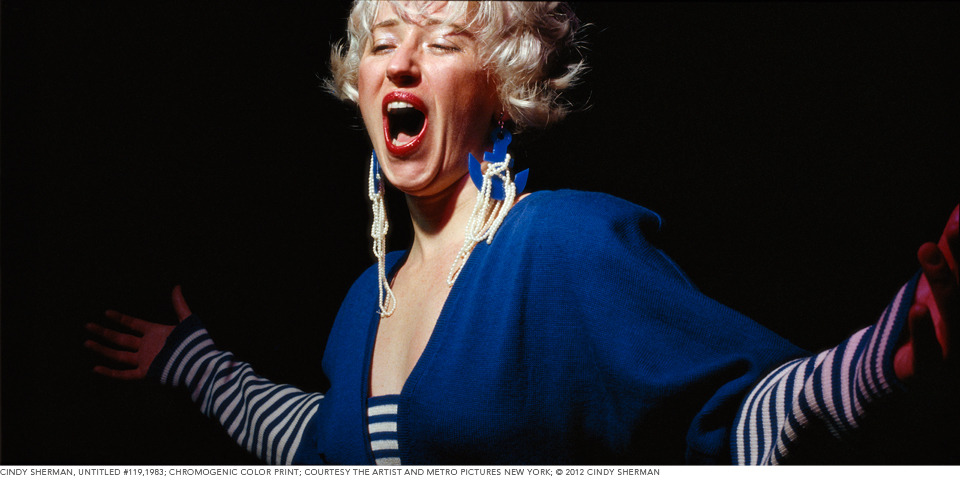 For seminal photographer and artist Cindy Sherman, makeup isn't just a sea of colors and textures—the global practice is tied to broader ideas of contemporary identity. From now until October, The San Francisco Museum of Modern Art is hosting the largest photographic retrospective of Sherman's 30+ year body of work (organized by New York City's Museum of Modern Art), and we had to see her makeup job for ourselves.
In Cindy's large body of self-styled portraits inspired by pop culture and art history, she plays the role of model, director, stylist, makeup artist, hairdresser, and photographer. Employing makeup techniques she's honed over the past few decades, she transforms herself into familiar yet distant cultural archetypes, spanning elaborate celebrity personalities and ornamented characters to conventional, commonplace identities.
---
Immersed in a community where self-styling and portrait photography are paramount to expression and creativity, we can't help but make connections from Beautylish to Sherman's work. A passion for "looks," the technique to transform, and the ability to present a new self through makeup practically every day—it's no wonder Cindy teamed up with MAC Cosmetics late last fall for a multi-tiered makeup collection!
SHE LIKES MAKEUP AND CLOTHES, IN FACT, AND IS FASCINATED BY HOW PEOPLE PRESENT THEMSELVES TO THE WORLD.
ERIN O'TOOLE,
ASSISTANT CURATOR OF PHOTOGRAPHY, SF MOMA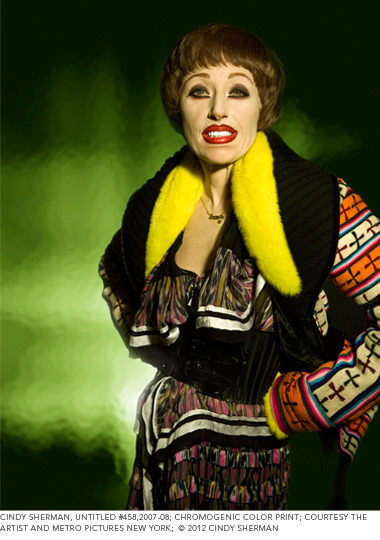 But her photographs also spark another kind of cultural discourse on the beauty industry. While images of clowns, aging socialites, and lowly housewives comment on identity and artifice, we find ourselves asking if Cindy's view of a visually oriented society is cynical. Do we use makeup to construct artificial—some might say superficial—identities of ourselves? Or, conversely, is makeup the unveiler, expressing our inner individualism through a visual medium? "Sherman calls attention to the fact that our culture is image-driven, but just because she questions the norms and ideals of our society—and fashion, in particular—doesn't mean she thinks we should all wear burlap sacks and forego makeup," comments SF MoMA assistant curator of photography Erin O'Toole, who oversaw the exhibition for the west coast. "She likes makeup and clothes, in fact, and is fascinated by how people present themselves to the world."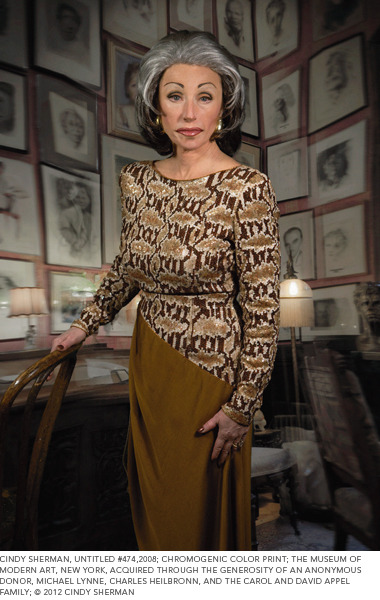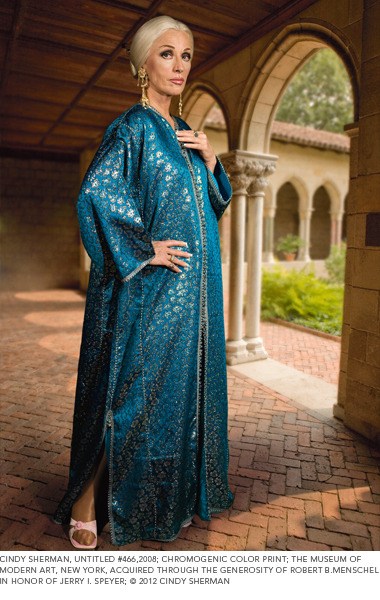 Previously, Cindy chiefly used prosthetics, wigs, and cosmetics to materialize her icons of culture, but she's recently turned her sights to the ever-controversial digital manipulation. In the exhibition, a large-scale mural features Sherman barely made up at all, dressed in pastoral garb. At first, nothing seems out of the ordinary, but upon looking closer we see a nose slightly smaller and lips a bit more defined. In a world where Photoshop and airbrushing are the norm, where does makeup and the beauty industry go from here? "Sherman has always been open to new ways of transforming herself in her work, and I think she sees Photoshop as a new means of doing what she had previously done with makeup or prosthetics," says Erin.
In recent press, there's been backlash over the excess overuse of airbrushing in magazines—14-year old Julia Bluhm's no-retouching petition to Seventeen magazine this past April comes to mind. Not all abuse the computer's magical manipulative capabilities, but we've seen our fair share of botched spreads to doubt a sense of reality. "Sherman deals with this issue in her work, questioning things that we normalize in our culture, like makeup, fashion, and plastic surgery, and reminding us to be critical consumers of what we see."
Cindy Sherman at the San Francisco Museum of Modern Art, showing from July 14 to October 8, 151 Third Street, San Francisco
---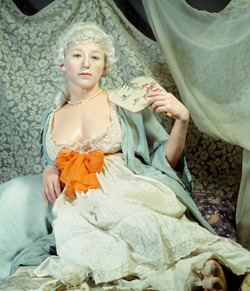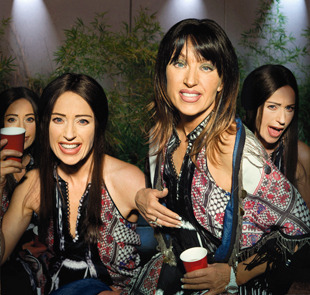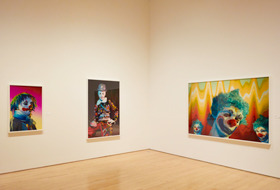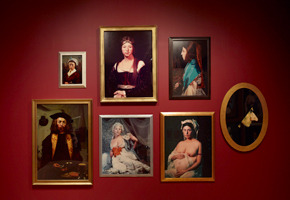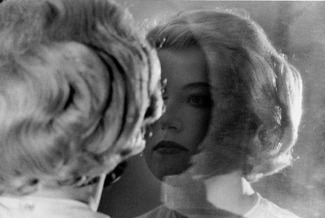 From left to right, top to bottom:
Cindy Sherman, Untitled #193, 1989; chromogenic color print; courtesy the artist and Metro Pictures, New York; © 2012 Cindy Sherman
Installation view of Cindy Sherman, San Francisco Museum of Modern Art, July 14-October 8, 2012; organized by The Museum of Modern Art, New York; Photo: Ian Reeves
Cindy Sherman, Untitled #463, 2007-08; chromogenic color print; courtesy the artist and Metro Pictures, New York; © 2012 Cindy Sherman
Cindy Sherman, Untitled #465, 2008; chromogenic color print; courtesy the artist and Metro Pictures, New York; © 2012 Cindy Sherman
Installation view of Cindy Sherman, San Francisco Museum of Modern Art, July 14-October 8, 2012; organized by The Museum of Modern Art, New York; Photo: Ian Reeves
Cindy Sherman, Untitled Film Still #56, 1980; gelatin silver print; The Museum of Modern Art, New York, acquired through the generosity of Jo Carole and Ronald S. Lauder in memory of Mrs. John D. Rockefeller 3rd; © 2012 Cindy Sherman